Comfortable gadget.
Intelligent rubbish bins still appear to many people as gadgets straight from science fiction movies, but the facts are that they have been on sale for a long time. The Xiaomi company has just presented the latest version of its modern trash container, which will not only pack a full bag, but will also prepare another one.
Dimensions of the new model Xiaomi Smart Basket have been reduced compared to the predecessor of 2018 and is 370x330x188 millimeters. The capacity dropped from 15.5 to just 12 liters, so it is difficult to treat it as the main mixed waste bin at home. Xiaomi Smart Basket 2019 uses a battery with a capacity of 20,000 mAh, which single charge is designed to work for up to 150 days. The battery allows you to perform all functions of the smart basket.
First of all, the equipment has infrared sensor. Just bring your hand up to 35 cm from the sensor and the basket will open automatically. Extremely hygienic, right? If the user wants to throw more rubbish, he can lock the lid in the open position – otherwise it will close automatically after a while.
Other smart bin functions are the ability to automatically close full trash bags, as well as prepare new ones. Xiaomi Smart Basket uses a special module with bags, which provides a new bag immediately after closing the old one.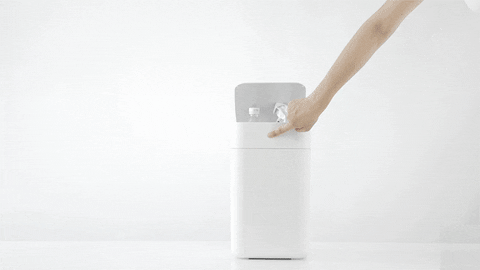 The price of Xiaomi Smart Basket during the ongoing crowdfunding collection is 199 yuan, or approx. 110 zlotys. When the equipment goes on sale, it will cost 299 yuan, or around usd 165. Poles will have to wait for his debut on AliExpress or … buy the previous version of the basket.