Mac Pro already in Poland. According to some, prices of the new Apple computer for professionals look like a random cluster of numbers, which a soulless drawing machine drew at the meeting of stout heads in Cupertino. usd 27 999 for the basic option and as much as usd 251 679 (yes, everything is correct, six digits) for the model with "everything". Is it worth spending astronomical money for theoretically only the best equipment on the market?
The price is ridiculously high
but Apple lovers say it's worth it.
What do we get in the Mac Pro for usd 27 999?
That's all you have to pay for the base variant using the Intel Xeon W 8-core processor clocked at 3.5 GHz, 32 GB DDR4 ECC memory (4×8 GB), Radeon Pro 580X graphics card with 8 GB of memory and a dizzying amount of 256 GB of data memory on the SSD. In your free time you can check on Google how much the following components cost. Then you will find out with which "copy" Apple sells its novelty. Of course, you can add the price of the housing, power supply, mouse and keyboard to the above, because these also make up the latest computer.
If you've already counted, set up your own Windows PC for comparison with a 32-core Threadripper 3970X or 24-core Threadripper 3960X, which computing power will eat this Mac Pro for breakfast, but will still not be Macs with MacOS. On the Internet you can read that "in an Apple computer you pay for the highest quality, excellent optimization and for a premium product." I feel like arguing with this, but I'm a little scared.
Mac Pro for usd 252,398, i.e. case wheels for usd 1920
If your budget is unlimited, you can let your imagination run wild. usd 51 840 is an additional charge for two graphics cards Radeon Pro Vega II Duoeach with 2 x 32 GB HBM2 memory. This add-on will bring the biggest performance increase, along with the 28-core Intel Xeon W 2.5 GHz server processor, which accelerates to 4.4 GHz in Turbo mode, which is an option valued at an additional usd 33,600.
Mac Pro surprises with the possibilities of the motherboard, which you can plug in even 1.5 TB DDR4 ECC server memory. Twelve dice of 128 GB each is an expense of 120,000 zlotys extra. Against the background of these additions, adding 4 TB of SSD memory for usd 6,720 seems to be a cosmetic expense. You can't miss the Apple Afterburner accelerator, which will improve performance when working on video files.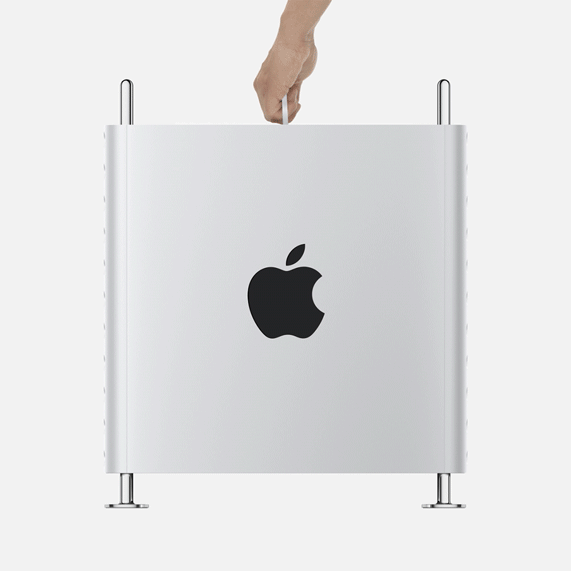 Without a doubt, one of the most important additions to the new Mac Pro are the wheels for the housing. Apple prices them at 1920 zlotys. To paraphrase the classic: "a surcharge of 1920 zlotys for casing wheels may be funny, but it was the best solution." Truth? Without wheels it is impossible to easily transport the case from place to place. Yes?…
The image of the whole configuration in the "everything and a little bit" option is completed by the Apple Trackpad 2 trackpad. The keyboard and mouse are free, thankfully.
It is said that the prices of Mac Pro computers "should not be discussed" because it is equipment designed for large companies for which "money does not count". Alternatives from other manufacturers are sometimes cited at almost the same high prices. Are you sure that such high prices for workstations are justified, since for a few times less money can be set up much more efficient and equally reliable equipment? I am interested in your answers.